What happens when the primary investments in a community are policing and incarceration rather than human and community development?
Daniel Cooper, faculty member at Adler University who has worked for its institute and centers, answers this question in a new book, The War on Neighborhoods. Co-authored by Ryan Lugalia-Hollon, formerly a fellow at the Institute on Public Safety and Social Justice at Adler University, the book shows the damaging effects of an overreliance on punishment in the Chicago neighborhood of Austin.
"When violence rates in the city increase, the typical response is more law-enforcement solutions," Cooper said. "But we've tried this for decades and have seen that it doesn't improve public safety. Bad policies and mass incarceration have destroyed neighborhoods and created a vicious cycle that keeps people, many of whom are African American, trapped in poverty and in violent communities."
The concentration of incarceration in neighborhoods like Austin has a long-term debilitating effect on families and communities. As parents are removed from their homes, children don't have the support and guidance they need and are more likely to experience stress and trauma. Neighborhoods destabilize, as they see lower rates of employment and homeownership.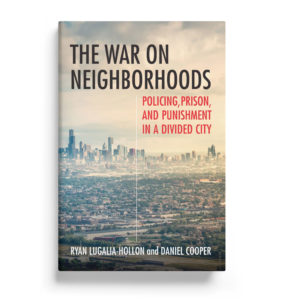 Cooper advocates for moving taxpayer dollars away from punishment and incarceration to programs that address the root causes of community violence. Funding education, employment, housing, and mental health programs will help communities heal. Coordinated programs and services can help children and youth stay out of the criminal justice system.
"Smart public safety strategies will create an equitable city, one that overcomes persistent patterns of division, racial segregation, and economic isolation," Cooper said. "We need to reverse patterns of racial injustice so that Austin and other communities can create opportunities for residents instead of reinforcing poverty."
The book is one of Cooper's efforts to promote awareness of and solutions to inequality in cities. Chicago's Million Dollar Blocks is an interactive map showing how much taxpayer money is spent to incarcerate residents on individual city blocks. In Chicago from 2005-2009, there were 851 blocks with over $1 million committed to prison sentences. Many of the people were serving sentences for nonviolent drug offenses.
Cooper also shared his ideas on criminal justice reforms and community investment with Chicago magazine in a report about the serious health effects of underinvestment in Chicago's West Side communities.