We acknowledge that our Vancouver Campus resides on the unceded, ancestral, and occupied, traditional lands of the xʷməθkʷəy̓əm (Musqueam), Səl̓ílwətaʔ (Tsleil-Waututh), and Skwxwú7mesh (Squamish) Nations of the Coast Salish peoples.
During the month of June, we recognize and celebrate National Indigenous History Month in Canada. This month was established to acknowledge and honour the histories, heritage, and diversity of First Nations, Inuit, and Métis peoples and communities in Canada. It is a time to learn from and with Indigenous knowledge-holders and to recognize and celebrate the unique and diverse strengths, voices, and contributions of Indigenous peoples.
It is also a time to continue to reflect on the adverse impacts of colonialism and systemic racism on Indigenous peoples, and to hold ourselves and one another accountable for working together to continue the ongoing and essential work of truth and reconciliation. This includes familiarizing ourselves with foundational documents for this work, including the calls for action and justice in the final reports of the Truth & Reconciliation Commission, the National Inquiry into Missing & Murdered Indigenous Women & Girls, the UN Declaration on the Rights of Indigenous Peoples, and the Canadian Psychological Association's response to the TRC Report.
We encourage everyone across the Adler University community to learn about the history of Indian Residential Schools, the Sixties Scoop, forced displacements of Indigenous peoples from the lands, broken treaties, harms caused by healthcare systems and practitioners, and other aspects of the history of colonization in Canada. We encourage everyone across the community to learn about Indigenous ways of knowing and being, including Indigenous approaches to respectful research, teaching, and learning about Indigenous peoples, as well as Indigenous approaches to the topics that we research, teach, and study.
Celebrate
We recognize and honour the lives, leadership, and accomplishments of Indigenous peoples and celebrate their work and advocacy to promote community health and advance social justice.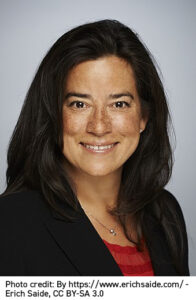 Jody Wilson-Raybould
Jody Wilson-Raybould, the first Indigenous person to serve as Attorney General of Canada, is a prominent member of the We Wai Kai Nation, and a descendant of the Musgamagw Tsawataineuk and Laich-Kwil-Tach peoples. She is also known by her Kwak'wala name, Puglaas, meaning "woman born of noble people," and is the daughter of Chief Bill Wilson, an advocate for First Nations.
After beginning her career as a prosecutor in Vancouver, she accepted a position at the B.C. Treaty Commission in 2003 as a process advisor, working with the Crown and the First Nations to negotiate treaties. She was elected commissioner in 2004 of the B.C. Treaty Commission by the chiefs of the First Nations Summit, where she served 7 years. In 2009, she was elected to council for the We Wai Kai Nation, where she was instrumental in developing a land code for her community. Wilson-Raybould was also elected Regional Chief of the B.C. Assembly of First Nations in 2009. In 2015, she was elected to Parliament; she served as Minister of Justice and Attorney General. Currently, she represents the federal electoral district of Vancouver Granville in Parliament. She has published a book, From Where I Stand: Rebuilding Indigenous Nations for a Stronger Canada. Read more from the University of Alberta.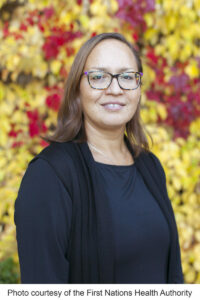 Cornelia Wieman, M.D.
Dr. Cornelia Wieman, Canada's first female Indigenous psychiatrist, is Anishinaabe, a member of the Little Grand Rapids First Nation. Earning a bachelor and master's degree from the University of Waterloo, she went onto McMaster University where she pursued medicine with a specialization in psychiatry.
Her clinical and academic interests have been focused on Indigenous people's mental health issues, policy, and workforce development. She has spent more than 20 years working in support of Indigenous communities, both on the reserve and in urban settings, including serving as Acting Deputy Chief Medical Officer at First Nations Health Authority.
Dr. Wieman's professional accolades are expansive and include numerous instances of her work in furthering the health and benefit of Indigenous peoples, including co-directing Indigenous health research programs at numerous institutions and serving as an advisor or consultant to many organisations, including the Assembly of First Nations and Health Canada's First Nations and Inuit Health Branch. She is an Adjunct Professor in the Faculty of Health Sciences at Simon Fraser University and an Assistant Clinical Professor at McMaster University. Dr. Wieman has won numerous awards and research scholarships, including being awarded the Queen Elizabeth II Diamond Jubilee Medal in 2013. She is currently serving in her second term as President of the Indigenous Physicians Association of Canada. Read more from First Nations Health Authority.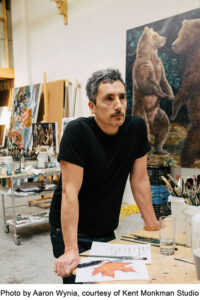 Kent Monkman
Kent Monkman, a visual artist known for his exploration in themes of colonization, loss, resilience and sexuality throughout Western European and American art history, is a member of the Fisher River Cree Nation in Treaty 5 Territory.
His work depicts the complexities of Indigenous experiences, both past and present, across painting, film, performance, and installation. Monkman's work often includes a gender-fluid, time-traveling, shape shifting being who challenges traditional notions.
Monkman's paintings and installations have been featured in numerous institutions, including the Metropolitan Museum of Art, the National Gallery of Canada, and the Royal Ontario Museum. His exhibitions, Shame and Prejudice: A Story of Resilience (2017 – 2020) and The Triumph of Mischief (2007 – 2010), were featured on a solo national tour and his film and video works have been screened at the Toronto International Film Festival (2007, 2015). In 2017, Monkman was the recipient of the Ontario Premier's Award for Excellence in Arts and an honorary doctorate degree from OCAD University. Read more and explore his work from The Met and Heard Museum.
National Indigenous Peoples Day
Many Indigenous peoples and communities in Canada have celebrated their culture and heritage on or near the summer solstice, and the longest day of the year, for generations. In cooperation with Indigenous organizations, the Government of Canada designated June 21, around the summer solstice, as National Indigenous Peoples Day in 1996.
Starting this year, National Indigenous Peoples Day is being recognized as an official Adler University holiday for the Vancouver Campus. Classes in Vancouver will not be held on Monday, June 21.
Community Partner Spotlight
Kílala Lelum (Urban Indigenous Health and Healing Cooperative) is a non-profit Indigenous Health organization that has been operating in Vancouver's inner city since 2018. The Kílala Lelum Health Centre, located in Vancouver's Downtown Eastside (DTES), offers an inter-professional, team-based primary care home that includes a balanced partnership of services between traditional Indigenous Elders/Healers and primary care providers. The mandate of Kílala Lelum is to provide culturally safe and effective care to patients of all nations. Specifically, the centre has the mandate to enact the Truth and Reconciliation Commission Calls to Action in Health (Health Actions 19-23) and to specifically recognize, respect, and address the distinct health needs of the Métis, Inuit, First Nations, and off-reserve Indigenous peoples.
Learn and Support
Resources and Events
Advocacy Actions
Organizations to Follow and Support
Read, Watch, Listen, and View