"Where do I begin?"
That was the first question Erica Wade-Ball, Ph.D., posed after she accepted the call to serve as the first Diversity Faculty Fellow at Adler University.
To consider a topic of focus, Dr. Wade-Ball went back and reviewed various resources created by faculty and staff.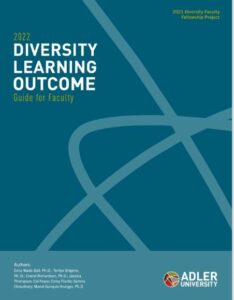 "I re-read the mission, values, vision, and diversity statements," said Dr. Wade-Ball, who serves as an assistant professor, director of training, and interim program director of the Clinical Mental Health Counseling program for the Department of Counseling and Integrated programs in Chicago.
"I also read the 'A Movement for Justice: Socially Responsible Practice' and the 'Adler University Black Community Demands and Expectations,'" she added.
After re-reviewing the literature and consulting with the University's vice presidents of Academic Affairs and the Center for Diversity and Inclusion, her project came into focus. "I wanted to create a guide that would support both someone similar to my own experiences (new to academia) and tenured faculty to integrate diversity, social justice, and advocacy competencies within the curriculum."
Dr. Wade-Ball was chosen in March 2021 to serve as the first Diversity Faculty Fellow by the Center for Diversity and Inclusion and Academic Affairs. The 12-month fellowship program provides a faculty member with opportunities to develop and implement strategies and initiatives that improve the success of minoritized students, faculty, and staff at Adler.
The result of the project was the creation of the 2022 Diversity Learning Outcome Guide for Faculty (DLOG), a project she co-authored with various members from all three campuses. Each member was invited to serve on the Diversity Learning Outcome (DLO) Committee she convened.
In an interview with Dr. Wade-Ball, she discusses her fellowship experience, what the Adler community can take away from the guide, and why other faculty members should consider becoming a Diversity Faculty Fellow.
What made you decide to serve as the University's inaugural Diversity Faculty Fellow?
Dr. Wade-Ball: Throughout my nine years in Student Affairs, I have advocated for students from various capacities, such as a clinical supervisor and facilitator for diversity dialogues, specifically, as a Dialogues on Diversity/Conversations on Diversity and Equity (DOD/CODE) facilitator, and collaborating with diversity centers. Now in Academic Affairs, my professional interest and goal as a faculty member is to enhance my knowledge and skills with curriculum development and learning outcomes.
During the 12-month program, what would you say were some of the highlights? Any takeaways that really stood out?
Dr. Wade-Ball: I am glad I created a DLO committee because the task was bigger than one person. Also, this opportunity enhanced my knowledge of the University, and I gained long-lasting relationships with each member. I learned so much from each member, and I appreciated being able to talk and explore ideas in a nonjudgmental and supportive manner. Moreover, having diverse perspectives added value to me as a professional and to the project (i.e., faculty, student, and staff from three different campuses).
What was your intent or goal in creating the Diversity Learning Outcome Guide?
Dr. Wade-Ball: My vision came from an area of wanting to enhance my knowledge as an Academic Affairs professional while combining my experiences and training as a Student Affairs professional. Also, my goal, along with the DLO committee, was to "develop a guide to support faculty in defining, cultivating, and achieving social justice through a transformative learning process."
What do you hope Adler faculty take away from this guide? And how, from your perspective, will this ultimately enrich the larger Adler community?
Dr. Wade-Ball: After reading the guide, faculty, staff, and students can use the information to create or update their courses specific to diversity learning outcomes. I also hope the guide will engage and strengthen approaches to actualizing social justice experiential learning critical to self-reflection and creating inclusive spaces through lifelong learning. In addition, faculty will utilize the DLOs to create opportunities for individuals to increase their knowledge, skills, and awareness specific to diversity, equity, and inclusive learning.
Based on your experience, why should other Adler faculty consider becoming a Diversity Faculty Fellow?
Dr. Wade-Ball: A Diversity Faculty Fellowship can be an opportunity for scholarship and community engagement both as an employee and colleague. Also, the fellowship can be an opportunity to create your own wish list while receiving support from your department and administration, which means an opportunity for creativity, innovation, and service.
Anything else you'd like to add or share?
Dr. Wade-Ball: I will add that I am appreciative of this opportunity, and I am glad I was able to present a finished product. I believe there are various opportunities to utilize this guide for future projects.