Highlighting its collective accomplishments in educating more socially responsible practitioners and the strides it's making in building an anti-racist university, Adler University — through its 2022 Annual Report — continues to push its commitment to its mission to new heights.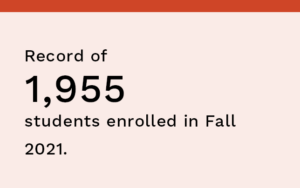 Successes highlighted in the report include providing $6.1 million in scholarships to make education more affordable and attainable, providing over 555,000 hours in direct services by students to contribute to their communities, and enrolling 1,955 students in Fall 2021 — a record for the University.
"Students remained steadfast in their dedication to their education at our three campuses, and our faculty and staff maintained their commitment to our mission by providing a world-class education to the next generation of socially responsible practitioners," said Adler University President Raymond E. Crossman, Ph.D., in his letter from the president message.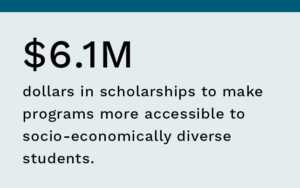 Other accomplishments outlined in the report include the University's steadfast commitment to building an anti-racist institution by creating a more equitable and inclusive culture. In 2022, the University welcomed Kahan Sablo, D.Ed., as vice president for its diversity, equity, and inclusion programs, along with implementing the first strategies of the University's Anti-racism and Inclusion Plan and securing funding to support continued work around the University's multi-year curricular transformation initiative.
Meanwhile, the report highlighted the University's efforts to continuously raise standards for student success and managing quality growth. This includes maintaining a 13.6 students per faculty member ration and improving in-classroom technology to strengthen hybrid learning environments.
"The continued contributions of our students, staff, faculty, alums, and supporters allow the University to live its mission daily on our Vancouver, Chicago, and Online campuses and communities across the globe," Dr. Crossman said. "I am eager to see what this year holds and look forward to broadening our success together."
To learn more, view the 2022 Annual Report online.