Editor's Note: Adler is hosting its first-ever Giving Day on May 10, an opportunity for the community to support the changemakers and visionaries of tomorrow by donating to the Adler Fund or one of its scholarship funds.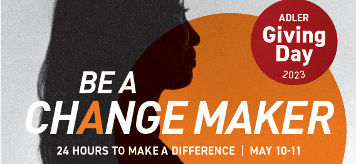 Abby Bautista was on her afternoon run, listening to music when an email notification on her phone from Adler University stopped her in her tracks.
She was about to find out if she was selected for the Diversity Scholars Scholarship, which would determine whether she could afford to pursue a doctorate in psychology. The scholarship provides a 50% tuition waiver.
"In my mind, I was thinking, 'Uh oh, here we go. I probably didn't get it,'" Bautista said. "But the first thing I saw was, 'Congratulations, you've been selected for…' and I just started screaming."
Some bikers cycling by her stopped and asked if she was OK.
"I told them, 'Yes. Sorry. I'm OK,'" Bautista said, laughing. "I was just so happy. I immediately called my parents."
Bautista had already talked to them about continuing her education in the Doctor of Psychology in Clinical Psychology (Psy.D.) program at Adler's Chicago Campus. But with her father working part-time and her mother without a job, they just wouldn't be able to afford it without the scholarship.
"When I got home, my parents were full of tears of joy," said Bautista, who was born and raised on the South Side of Chicago by two Mexican immigrant parents. "My brother and I are the first to have college degrees in my family — and I'm the first one to work on a doctorate. My parents were like, 'Future doctor here!'"
'A sign of strength'
Bautista, who now recognizes she had anxiety as a child, said she was raised with the idea that mental health was only needed for extreme cases or those in institutions.
"My parents would often tell me I was fine, that I didn't need help," she said.
It wasn't until she was attending Arrupe College at Loyola University, while taking psychology courses, that she began to understand the importance of mental health firsthand.
"One of my professors noticed I was biting my nails and itching a lot in class, and they encouraged me to see a therapist," she said. "I thought I'd shake it off, but I finally went."
After meeting with a therapist, Bautista learned anxiety was at the root of the habits her professor had spotted — they were coping mechanisms.
"That made me realize the importance of seeking support, whether it's from professors, family, or friends," she said. "I also started to learn that asking for help is a sign of strength, not weakness. That's something I want to help my community embrace because there's still a lot of stigma around it."
Ready for the future
Bautista earned her associate degree at Arrupe, followed by a bachelor's degree in psychology with a minor in criminal justice at Loyola. She then received a master's degree in community counseling at Loyola.
She quickly began working at a private practice as a therapist. However, Bautista said there was a part of her that felt that she still had a lot left to learn and she felt a need to continue growing.
Bautista turned to a familiar source — a professor of hers who ultimately encouraged her to look into Adler.
"I was immediately drawn to the mission at Adler: training socially responsible practitioners," she said. "But then the reality of earning a Ph.D. set in. How were we going to afford this? I had a full ride at Loyola and didn't want to incur a lot of debt."
Bautista moved ahead with her application at Adler and began working with an adviser who encouraged her to apply for the Center for Diversity and Inclusion's Diversity Scholars Program, which is designed to increase diversity among graduate students in various areas of psychology. Applicants must be a member of an underrepresented population, have genuine interest in the field of psychology, and have a strong commitment to social justice.
Today, Bautista is getting ready to start her third year in the Psy.D. program.
"I've noticed my confidence is up," Bautista said. "Since I started Adler, I am able to understand my clients more easily. It's helping me prepare for what I want to do in the future."
That future, Bautista said, includes opening a practice that will serve people in low socioeconomic status communities, including individuals who are undocumented or need support in different languages. She also wants to work at a university to help emphasize the importance of first-generation immigrant college students.
"I know I'll be ready to achieve my goals after my time here at Adler," Bautista said. "And I can be honest today; I would not be at Adler if I didn't get that scholarship."