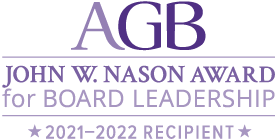 Adler University is honored to announce it has been selected to receive the 2022 John W. Nason Award for Board Leadership by the Association of Governing Boards of Universities and Colleges (AGB). The Nason Award, established in 1992, is presented in partnership with TIAA to higher education governing boards demonstrating exceptional leadership and initiative, strong governance and trusteeship, courage in the face of difficult circumstances, and significant achievements benefitting the university as a whole.
This year's honorees were chosen from a diverse array of nominations illustrating boards' crucial work from public and private institutions, statewide systems, and institutionally related foundations. The award selection committee placed special significance on boards focusing on justice, diversity, equity, and inclusion.
"Adler University's mission to advance social justice is at the core of our role as trustees. We have worked hard to evolve our board structure and responsibilities to be fully grounded in the principles of diversity, equity, inclusion, and anti-racism," said Adler University Board Chair Joy MacPhail. "I know that receiving the prestigious Nason Award will motivate us to continue our journey as a board and as members of a university community that supports our students and faculty to bring needed change to the communities they call home."
Keeping diversity, equity, and inclusion at the forefront, the Adler University Board of Trustees championed social justice in its mission, deliberately moving beyond "checking boxes" toward addressing culture and systems. The board established an Anti-Racism and Inclusion Committee following a year of community consultation, completed a multi-year anti-racism and inclusion curriculum for board members, and is developing committee-specific equity lenses that, alongside other critical campus measures, are advancing transformation in culture across the university.
"Structural racism across higher education is formidable and pervasive. Commitment, collaboration, and creativity across stakeholders is required to build trust and dismantle inequities," said Adler University President Raymond Crossman. "Adler University has long championed social justice in its mission, learning environment, and community engagement. As the Board graciously accepts the AGB John W. Nason Award, we recognize the work that is yet to be done to remain true to this mission."
Adler University's Board of Trustees is one of six institutions receiving this year's Nason Award. Other recipients include the Community College of Rhode Island Foundation Board of Trustees, Pennsylvania's State System of Higher Education Board of Governors, The Southern California University of Health Sciences Board of Regents, the University of Memphis Board of Trustees, Virginia Commonwealth University Board of Visitors.
"Strategic governing boards are critical to higher education's success—not only to the financial vitality of the institutions and foundations that higher education boards oversee, but also for the millions of students who enroll and graduate every year. It is also evident that boards have an important role to play in elevating justice, diversity, equity, and inclusion throughout campus and in the board room. We hope that recognizing boards who serve as dedicated, strategic thought partners with chief executives and leadership teams will give others the courage to lead in a similar fashion," said Henry Stoever, AGB president and CEO.
Adler will receive its award at an upcoming board meeting and will be honored at AGB events and programs throughout the year.
The Nason award is named for higher education leader John W. Nason, who served as the chair of the National Japanese American Student Relocation Council and helped more than 4,000 interned students continue their college studies across the nation during World War II. Learn more about AGB's Nason Award at www.AGB.org/Award.