Chicago Online adjunct faculty and recently appointed member of the Department of Energy's Environmental Management Advisory Board, Celeste Murphy Greene, has spent just under three decades researching the connection between climate and social issues. Her new book dives into environmental issues of the 21st century, the social injustices intertwined with them, and the role environmental justice can play in providing solutions.  
Vulnerable populations across the globe are at serious risk of exposure to environmental hazards compared to high-earning or white people. In the United States, landfills and toxic waste facilities are much more likely to be found in Black and Latinx communities. Urban areas, which are often low-income and minority communities, typically have large sums of pavement that absorb heat, allowing for higher rates of pollution, increased energy costs, and higher rates of illness and death.
While environmental hazards have an impact on us all, their effects are often intensified for those with the most needs in our communities – and although climate change, health inequities, economic challenges, and social inequalities may seem to be separate entities, for Celeste Greene, Ph.D., they're more connected than we might think. Her examination of the intersection of these environmental and social issues led her to adopt an environmental justice mindset.
From hazard to justice
When Greene was spending her college summers lifeguarding along Cape Cod, she noticed medical waste wash on the shore. That moment fueled her to act, eventually studying the connection between environmental and social issues in her doctoral dissertation. She was particularly interested in the effects of pesticides on migrant farmworkers in South Florida, which proved that low-income, minority communities are more likely to experience the harsh effects of environmental hazards.
Pollution isn't the only hazard Greene considers in her fight for environmental justice – emergency management also plays a significant role. As another form of an environmental hazard, natural disasters can displace large populations at a moment's notice. For example, hurricane season often results in evacuation orders and warnings. Vulnerable populations, such as the elderly and those who do not have the means to leave quickly, are usually hardest hit by catastrophe.
"I think that this was highlighted with Hurricane Katrina. You can't issue an evacuation warning and expect everyone to get out," said Greene.
Hurricane Katrina resulted in one of the largest evacuations and relocations of individuals in the country's history. Still, many residents stayed – a decision that's easy for many to criticize. However, a Gallop poll showed that many individuals could not because they lacked financial resources to find housing, didn't have transportation, or didn't want to be separated from their families.
Whether it's providing resources to those without an escape or advocating for green alternatives and policies reducing reliance on fossil fuels, environmental justice ensures solutions and alternatives are accessible to every community and aid every citizen, regardless of their zip code.
Smart solutions
"By listening to the needs of the community and speaking with local leaders, large entities such as the federal government can gain trust from those disenfranchised from environmental protection. This lack of trust stems from years of divestment and lack of understanding from those in charge," said Greene.
Examining how this trust can be rebuilt in Environmental Justice and Resilience in an Age of Uncertainty, Greene believes we must understand the history that led to the creation of current inequities, such as redlining and the Tuskegee Study.
"To move forward, we have to understand the past," says Greene. "By taking ownership of past wrongs, we can begin to build more resilient communities. High-risk communities are directly tied to past wrongdoings such as redlining, a federal practice aimed at keeping racial groups segregated."
Smart solutions aren't only a mere aspiration. New policies and infrastructures are being implemented in many cities to make impactful changes.
Green infrastructure is being implemented in communities in the form of tree planting and using native plants on medians, sidewalks, and vacant lots to help cool urban areas, reduce flooding, and create more livable communities. Schools in the San Francisco Bay area are even using solar panels to achieve energy independence and lower energy bills, cutting down their carbon footprint.
Across her work, Greene looks at solutions like these that address the disproportionate impact of environmental hazards on minority and low-income populations. Furthermore, she notes that when we have these conversations about environmental justice, we must involve all populations to create policies without disproportional outcomes.
A roadmap for the future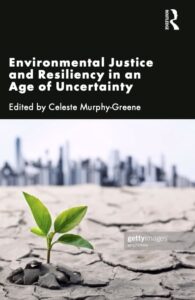 With a recently published title under her belt and a new position with the United States Department of Energy, Greene is optimistic about the future. She hopes her new book will act as a toolkit for readers, providing solutions to these pressing issues.
"I'm hoping people will view this book as a toolkit and implement some of the solutions provided while also having a better understanding of how to change our divisiveness into a positive and build more just and resilient communities."
Greene, who teaches sustainability online for Adler Chicago's master's in public administration program, plans to require her book for her courses. It will be published this spring, but pre-order is available through her publisher's website.
In addition to her role at Adler, she's also a professor at the University of Virginia and serves as a member of the Environmental Management Advisory Board for the U.S Department of Energy, where she will provide her expert advice on environmental justice and intergovernmental and stakeholder engagement.
"In my new role as a member of the Department of Energy's Environmental Advisory Board, I am looking forward to learning more about the inner workings of the Department and helping share my knowledge of environmental justice," says Greene.